Etiquette for Children & Teens
Lois Hearn, founder and director of "Your Manners"™ combines years of experience as an educator and a wealth of resources to present fun and interactive etiquette classes and presentations. The goal of the "Your Manners"™ program is to foster each child's appreciation of the benefits of practicing good manners. Parents, teachers and as importantly, the students themselves have applauded the program.
The "Your Manners"™ Program teaches etiquette basics in social skills and dining etiquette. The program is for children starting at age 5 years old.
Some of the topics covered for Children & Teens: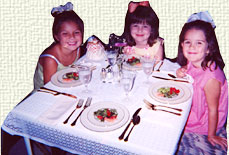 Telephone Etiquette
Proper Introductions
Party Manners
Manners in Public Places
Duties of the Young Host/Hostess
Giving & Receiving Gifts
Thank-you notes
Showing Respect
Table Manners
The "Your Manners" Program is for:
Clubs
Church Youth Programs
After School Enrichment Programs
Group Classes on week-ends
Scouts
Home Schools
Testimonial
I just wanted to let you know that Lois Hearn's visit to my Girl Scout Day Camp in June was a hit! She was a fabulous addition to our Day Camp experience. The girls were thrilled to soak up every last minute of energy she provided in her interactive demonstration. I will recommend her services to everyone looking for an opportunity to enhance their personal growth or who may need a unique party experience for children and adults alike. I'm glad I viewed her in the NABN Newsletter. She's a real treat to know!
Jennifer Dobler
Sales Manager
Copyright (C) Your Manners - All Right Reserved