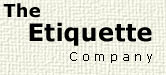 How Etiquette Benefits You
Professional etiquette builds leadership, quality, business and careers. Exceptional service requires refined social skills. Whether you are a seasoned executive or just starting your career, a seminar in professional etiquette will help you.
Without etiquette, you limit your potential, risk your image and possibly jeopardize relationships that are fundamental to business success.
The Business Etiquette Presentation
Modifies distracting behaviors and develops admired conduct.
Enables one to be confident in a variety of settings with a variety of people from all walks of life.
Differentiates one in a highly competitive market.
Topics:
The proper handshake

Introductions

Positive first impressions

Office manners with co-workers

Meeting & greetings

Telephone etiquette

Business dining skills

Business casual attire
Dining Tutorials
Where do you place your napkin when you leave the table?
Is that your salad or the boss' on the left?
In this competitive atmosphere, good dining skills are not just necessary, but are a must have! An on-site tutorial luncheon or dinner is offered at a selected fine restaurant. This tutorial helps empower you to present yourself and your staff, with confidence when dining during business events.
It is a fact, that younger employees may be well-equipped with book knowledge, sales skills and computer skills, but they often do not know that social graces still matter. Attending a Business Etiquette Seminar is an investment in honoring commitments to quality and excellence.
Copyright (C) Your Manners - All Right Reserved